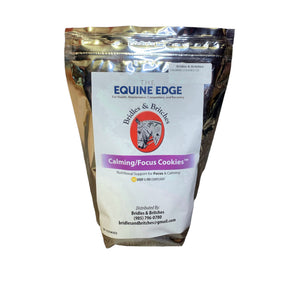 30 COOKIES PER BAG
T.H.E. EQUINE EDGE - TOTAL HEALTH ENHANCEMENT CORP. Calming/Focus Cookies™

Calming/Focus Cookies™ contain a blend of natural vitamins, minerals and amino acids to improve general health and well-being. L-Tyrosine is used to produce the neurotransmitter serotonin, which helps a nervous or anxious horse to focus and feel confident without affecting the ability to compete.
Dosing Instructions: Administer one to three cookies as needed. For competitions or events, administer one to three cookies as needed one hour before the event. Can administer up to three cookies every four hours if needed.
A proprietary blend of Soy Flour NGMO, Molasses, Flax Seed, L-Tyrosine, Fenugreek Seed , Himalayan Salt, Iron, Vitamin C (Ascorbic Acid), Vitamin E Natural (d-a-tocopheryl Acetate), Zeolite, N-Acetyl-L-Cysteine, Turmeric , Zinc Gluconate , Vitamin B5 (D-Calcium Pantothenate), Vitamin B6 (Pyridoxine), Vitamin B1 (Thiamine), Vitamin B12 (Methycobalamin), Vitamin B3 (Niacinamide), Vitamin B2 (Riboflavin), Choline Bitartrate.

Due to the nature of natural ingredients, physical attributes may differ from lot to lot (color, taste, etc.)

---
Calming Cookies, or for those who prefer it as a top dress, Calming Powder! Our calming products help to take the edge off, remain focused and calm the mind without dulling the body. Provide a peace of mind during: thunder storms, loading them into their trailers or stable, vet or grooming visit, or any situation that causes anxiety, stress or fear.