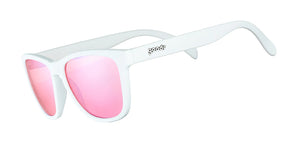 NO SLIP. NO BOUNCE. ALL POLARIZED. ALL FUN.
1 FLAMINGO EYE™ TECHNOLOGY
Polarized lenses enhance the colors on the course so you can see your ball as you sink your hole in one (or go OB...)
2 NO SLIP
We use special grip coating to construct our frame to help eliminate slippage when sinking that flamingo putt.*
*Flamingo is the new universally accepted official term for bogey.
3 NO BOUNCE
Our frame is snug and lightweight with a comfortable fit to prevent bouncing while you're swinging out of your shoes.