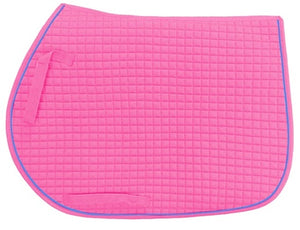 A55006P - Cotton Quilted A/P Square Pad, w/piping (2-colors)

This all-purpose saddle pad is designed with contoured withers and special square quilt pattern to keep foam from shifting.  The pad provides great protection 
without feeling bulky. Lasts through many washes. 

Made with 100% cotton shell and foam padding. Back line length 17", horizontal edge-to-edge: 22", depth 17".  Machine washable.